LK Luffing crane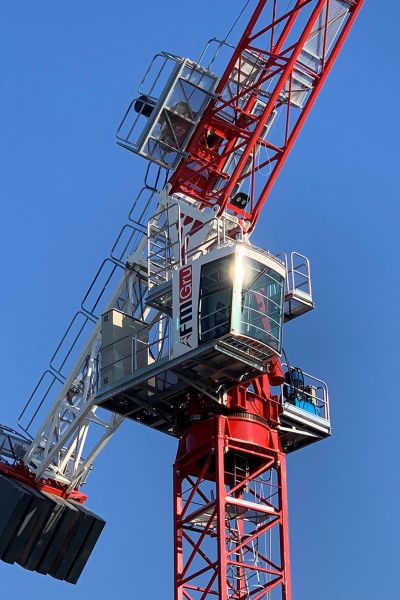 Luffing hydraulic crane line designed for the most congested construction sites. The crane jib can reach almost the vertical position: its 85-degree angle is reached in less than 2 minutes. The jib length of 52 meters, has a peak load of 2 tons and a maximum load of 10 tons with double fall device.
The advantages of the luffing crane are the following:
Lower working radius: the necessary space for its operation is suitable for restricted and congested job sites. The crane can indeed be positioned closer to the building and/or other cranes to optimize lifting efficiency at the jobsite.
More powerful and precise: the 37 Kw motor allows the jib to reach the vertical position in only 1,6 minute. Moreover, the operator decides when fast movements or precise load control are needed thanks to the advanced hydraulic technology and the installation of a load sensors control which adjusts automatically luffing speed compared to the load. The hoisting and luffing speed can be customized for each single building site.
Special hoisting winch: the operator might choose between 2 speeds ranges and he has the possibility to select the super-reduced speed. Moreover, this system allows the optimisation of lifting speeds according to the loads.
New cabin LUXURY is properly studied to improve the operator visibility and overview: he can visually follow the hook in every position. The cabin is equipped with all comfort: air conditioning, heating system, ergonomic seat, radio, etc. Furthermore, on this crane an advanced and unique safety system is installed, avoiding the contact/crash of the load with the cabin/operator (FM extra luffing limit-switch).
Installation of hydraulic grapples on lifting winch
Advanced electronic control: easy set-up, automatic ultra-lift system (+10%), anti-collision and zoning devices, hook-flat system
Dedicated oil temperature control of the oleo-dynamic luffing unit, regardless of jobsite temperatures: this model can indeed operate in both hot and cold environments.
Interchangeable spare parts with other FM tower cranes: many components, such as winches, hooks, gears are common to many other FM tower cranes models, reducing spare parts stocks
Faster erection thanks to pre-assembled units: The complete hydraulic section with gear and structure is pre-mounted in one piece. The full counter-jib and the jib are quickly assembled on the ground and positioned on the crane as a single unit. The crane can be also sectionable in different units to be mounted and dismantled with small mobile cranes, according the jobsites needs
Optimized transport: since main preassemblies are completed at our premises, transportation is very easy.
OPTIONALS:
Radio control with buttons
Radio control with levers
Radio control with basic display
Radio control with full optional display
Connection system - Industry 4.0
Black box
Anti-collision system between 1 or more; crane
Anti-overflight system
Modem for remote assistance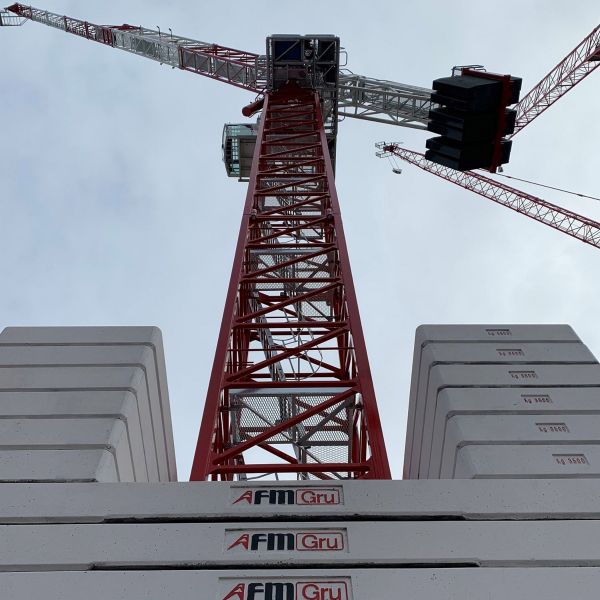 | | |
| --- | --- |
| height [m] | 37,1/52 |
| jib [m] | 52 |
| Max load capacity [kg] | 5000/10000 |
| tip load [kg] | 2160 |